Harvest field with fall colors in Yanqing
|
ChinaNews
|
2020-10-17 10:53:12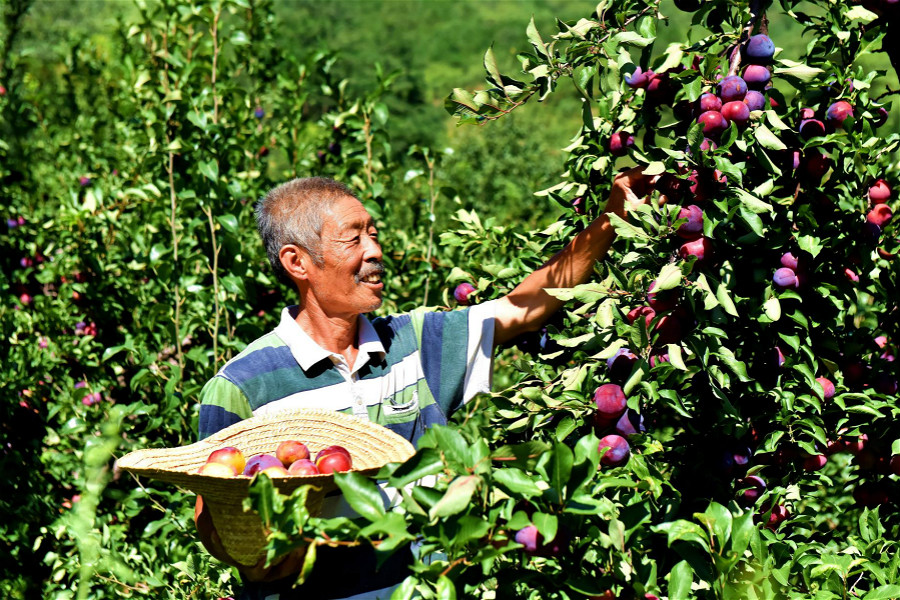 Season of mellow fruitfulness [Photo by Zhang Yan]
Day and night are equal, cold and heat are equal, and the autumn harvest comes quietly. Fruits are fragrant, gladdening the heart and refreshing the mind. Guichuan land is filled with the smell of harvest. Facing the fast changes of this land, my inner joy can no longer be held back, because it is a harvest year as scheduled.
In the golden Month of October, grapes are everywhere. Black pearl like grapes are dotted with vineyards, as oil-painting . Clusters of grapes are loaded with pulp and hung heavily on the vines, as if competing with each other and showing off their crystal clarity and maturity. The visitors freely walk through the boundless Vineyard, with a gentle breeze blowing, watching the leaves of grape blooming.
The valley is breezy and the sea is rippling. Ruby like raspberries hang among the branches and leaves. The crowd bustled and the laughter was loud. The baskets of raspberries picked by tourists themselves give off an attractive aroma, which makes people salivate. The lush mountains, dotted with raspberry groves, are full of harvest and hope, flourishing in the fertile fields.
The golden waves are rolling and the fruits are numerous. On the fertile land, the seedlings sprout like bamboo shoots after a spring rain. With the fragrance of the soil, the seedlings quietly put on their golden coats and fluttered with the wind to pay their highest respects to the diligent farmers. From a distance, the Golden Valley is like a fluffy carpet, rolling, shining golden light in the sun.
Every harvest is precious. The hard-earned autumn harvest is the best reward for the farmer's hard-earned year. As spring goes by and autumn comes, day after day, in the vast field, The simple and unadorned "wind girl" washes out the colorful four seasons. looking back, the long-standing farming history seems to be the imprint of the times.
The sons and daughters of Yanqing returned home in the abundant autumn with hopes, singing the theme of creating a happy life for Chinese farmers in the new era.