Autumn harvest rice on the bank of Caijia River
|
ChinaNews
|
2020-10-17 10:43:44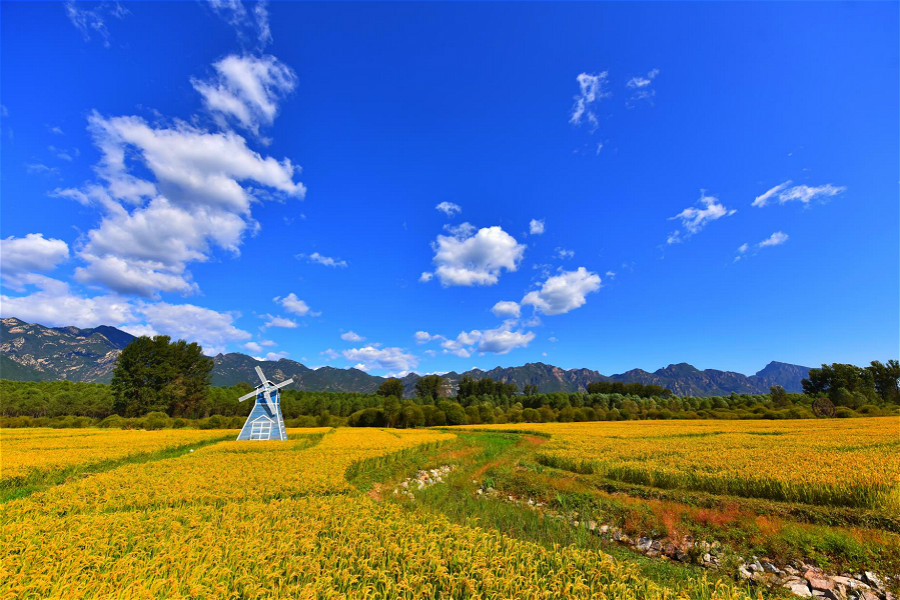 The sight of rice field is picturesque [Photo by Zhang Yan]
The cool wind stroked our face, smoothing the remaining heat of midsummer; The sky is high and the clouds are light, In this way came the harvest of autumn.
White clouds drift lazily across the clear blue sky, the clear water runs like a ribbon around the green peaks, and the paddy fields grow into the golden ocean, rippling in the autumn wind. Summer to autumn, Caijia riverside rice field in the blast of autumn wind and rain from the green of hope into the joy of yellow. The plank road and windmill are dotted among them, the yellow near, the green far away, the blue sky, a hand can frame a wonderful and unmatched autumn scenery map.
Breeze passing, golden rice spikes spread wave after wave, the sound of crashing is in the field singing insects accompaniment, laughter through the meantime, playing a symphony of harvest.
Endless visitors are attracted by this piece of gold, jumping into the depths of the rice fields, placed in the picturesque scenery, stop, take pictures, linger.
Talk about harvest in the autumn,the rice by the Caijia river is fragrant. The scenery is picturesque, a good harvest is in sight. In this field of hope, rice doubled over with laughter, the visitors Intoxicated. The ecological Yanqing is a feast for the eyes.